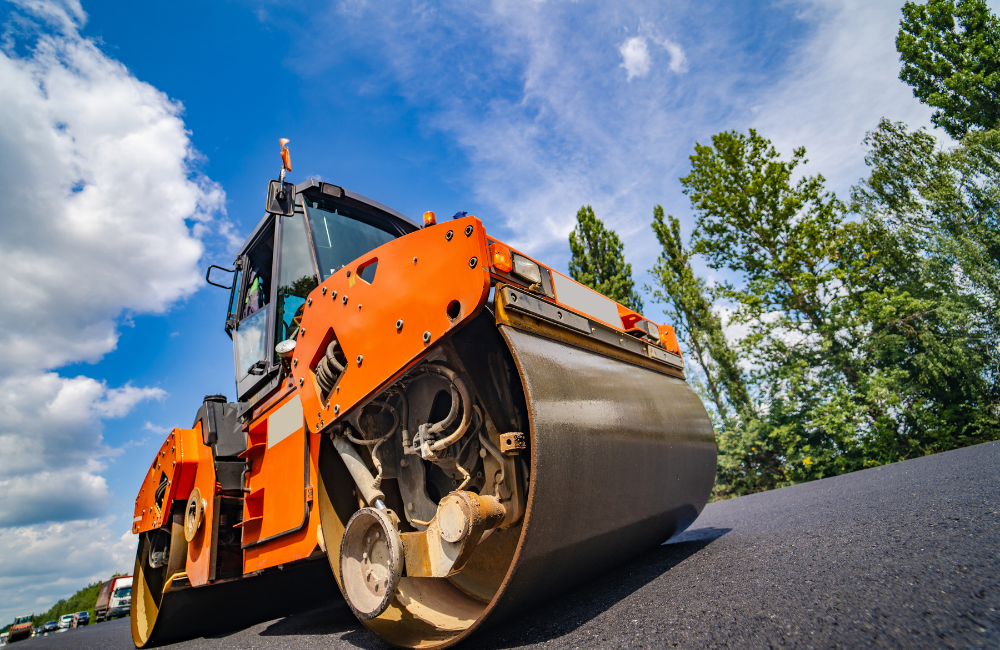 Proper soil compaction in residential areas may not be visible to the naked eye, but inadequate soil compaction is. When you see sidewalks and driveways buckling, cracks in the foundations of buildings, and water damage caused by poor drainage, these are pretty sure signs of bad soil compaction at work.
In construction, soil compaction is the process of applying pressure to the soil to make it denser. High-density soil has a number of uses. It bears the load of building foundations, allows water to pass under structures without causing erosion and prevents plants from growing beneath structures and destabilising them over time.
There are several occasions when you might need compaction equipment such as rollers, rammers or vibe plates. If you're building a swimming pool in your backyard, doing some landscaping on your block or backfilling the soil after burying pipelines, it's crucial to have equipment you can count on.
If you're worried about using a roller compactor safely, Ryno Hire has your back. Here is our brief guide to compactor machine safety and how to protect yourself while you're getting the job done.
Common Risks When Using Compaction Equipment
Compactor machine safety is important. Soil compaction equipment can cause serious injuries or be fatal if used incorrectly.
Common risks include:
Rollovers
Operating any kind of heavy machinery without the right level of care can lead to nasty topples. There are many actions you can take to prevent rollovers and the worst effects of their impact: assessing your environment first, taking it slowly, and wearing a seatbelt where available.
Struck-By Hazards
The person operating the equipment isn't the only one who has to be concerned about compactor machine safety. Others in your vicinity are at risk of being struck by the equipment unless you clear the vicinity or at least warn them of your activities. The best way to avoid others being struck by the equipment is to create a safety perimeter zone around the worksite.
Hand-Arm Vibration Syndrome (HAVS)
Repeated exposure to vibrations from compactor equipment can lead to Hand-Arm Vibration Syndrome, a common problem for workers in manufacturing and agriculture. HAVS can cause circulation and nerve disorders like carpal tunnel syndrome in the hands. Typically HAVS occurs with prolonged use over an extended period of time. Usually, it takes several years for the symptoms of HAVS to appear.
Hearing damage
Sustained exposure to noise levels higher than 85 dB leads to hearing loss over time. Like all pieces of heavy machinery, compactor machines can be very loud. Without proper hearing protection, you're putting your ears at risk.
Pinch points and crushing hazards
Compactor machines are made from moving parts that can cause pain and injury if your skin or clothes get caught in them.
Strains and sprains
Manual labour can cause sprains and strains, especially when proper form is lacking. Common injuries include back injuries, squashed nerves, ligament sprains and hernias. While these injuries often build up over time, they can also be caused by a single incident.
Ways to Minimise Risks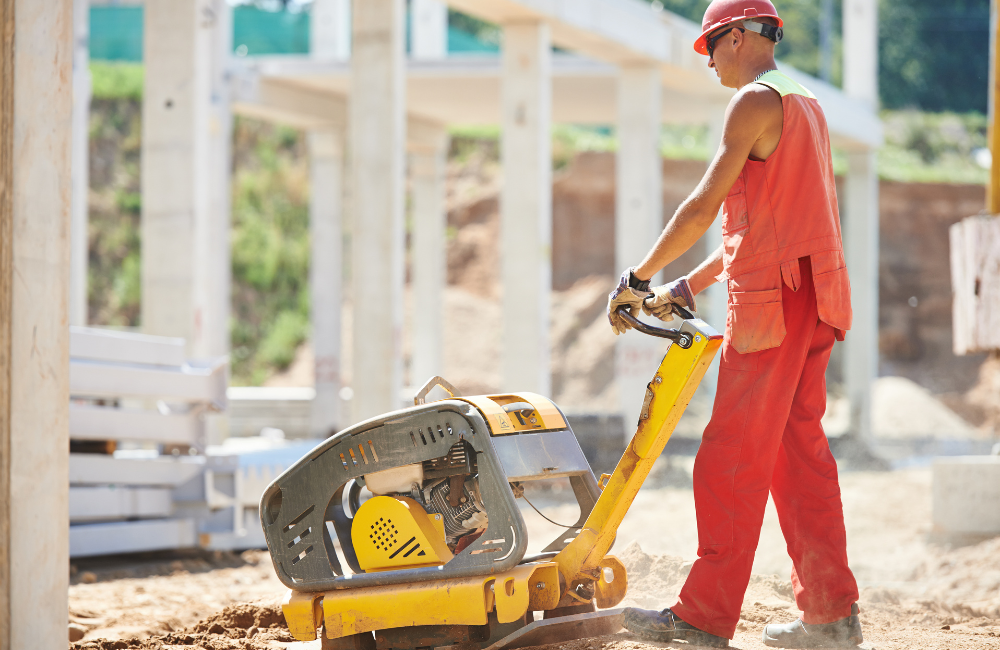 Here are some tips to minimise the risks involved in soil compaction and focus on compactor machine safety:
Choose the right equipment for the job
Soil compactors vary in size, weight, power and other factors, and the one you need depends on the job you have to do. Ryno Hire's small smooth rollers and remote access pad-foot rollers can access many confined spaces that are harder to reach on a larger roller.
Use personal protective equipment (PPE)
If you've ever worked on a construction site or you're an old hand at home DIY jobs, you'll know the importance of personal protective equipment.
A pair of quality ear muffs or plugs can protect you from hearing damage caused by exposure to the noise of heavy equipment for long periods. Steel-capped work boots protect your feet if equipment rolls over them. Work gloves protect your hands from scrapes and blisters, and you may want to consider a respirator or dust mask for the material you're working with. An earth compaction machine has a lot of moving parts, it is also best to avoid loose clothing and jewellery. If you plan on using the machine for long periods, it pays to invest in some anti-vibration gloves.
Follow the instructions and operate safely
An operator's manual from the manufacturer is provided with every piece of equipment that Ryno Hire provides. We can also walk you through some brief instructions for staying safe.
Inspect the equipment before you use it, and practice safety precautions while you're in action. Don't speed on gravel or bumpy surfaces. Check the manual, and don't try to operate the machine on a steeper slope or higher grade than it can handle. Don't exceed the load capacity, and don't park too close to the edge of a slope, as this can make it easier for the machine to tip over.
Avoid sprains and strains by keeping up proper posture and a straight back on the equipment, and adjust steering wheels and handles to suit your height.
Assess the area
Taking the environment into account is a big part of compactor machine safety. Avoid wet or muddy ground unless you're absolutely sure the equipment can handle it.
Dry Hire Compaction Equipment at Ryno Hire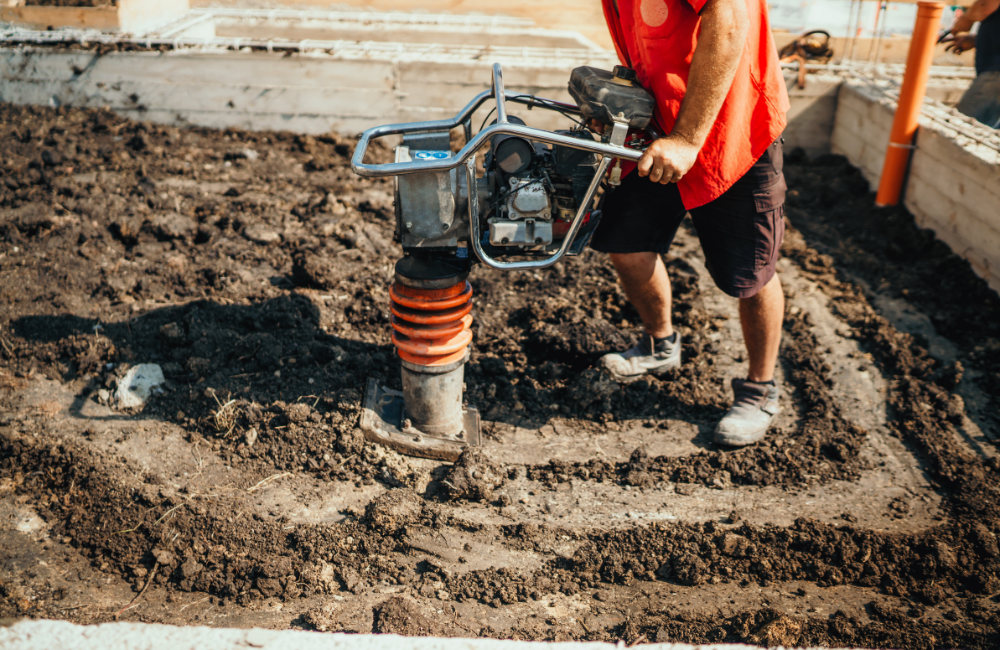 Ryno Hire specialises in the dry hire of earth compaction machines and other construction and earthmoving equipment. Our compaction hire equipment selection includes 1.6-tonne pad-foot rollers, 1.6-tonne tandem smooth rollers, 2.6-tonne tandem smooth rollers, 49 kg vibe plates and 65 kg rammers.
Our full range of hire equipment includes excavators, bobcats, tipper trucks and more. Whatever kind of project you have going on, you can get the job done quickly and get it done well with Ryno Hire.
A family-owned and operated business with over a decade of earthmoving experience, our equipment is reliable, cost-effective and easy to get the hang of. As we're a dry hire company, you don't need any special licences to borrow our equipment.
For more information about our equipment or about using a roller compactor safely, make an enquiry with Ryno Hire.