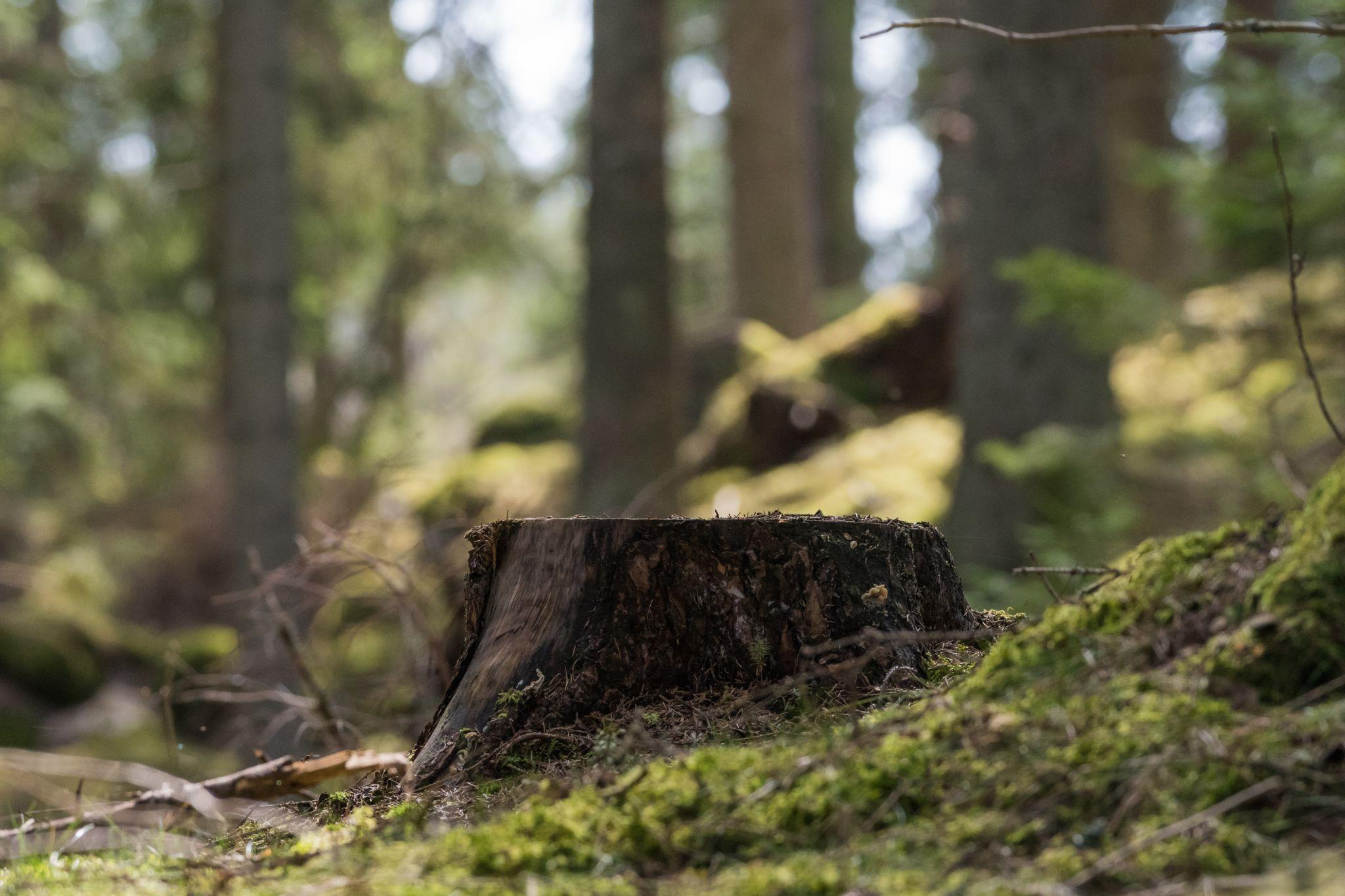 In the world of construction, excavators are some of the most commonly used tools in the industry that aid avid DIYers in achieving their landscaping visions. When operated safely, they have easy usability, with numerous attachments which enable them to be diverse in the variety of tasks they can complete. Ranging from clearing land, digging swimming pools and removing debris, this also makes excavators one of the most efficient tools in tackling tree stump removal.
If you're finding yourself stumped over how to remove that particular pesky stump in your backyard, the team at Ryno Hire are here to help assist you on your landscape journey. So, pull up a chair and make a cuppa as we're about to cover exactly how to dig up roots, what equipment to use and a few extra tips that'll make your tree stump removal all the easier.
Before You Start
Before you dive into your tree stump removal, there are a couple of considerations you should be aware of.
1. Don't underestimate the soil: Underestimating the type of soil your stump is rooted in can be a costly decision. Since soil type influences how easy or difficult it will be in removing a stump, we echo the importance of determining the soil type. A rule of thumb is that sand is typically considered to be the easiest to work with. Dirt and mud are moderately difficult to remove but are the most common tree stump terrain, whilst clay is known to make removal more troublesome.
2. Size up the stump: As the obstacle that's in the way of you building your dream pool, figuring out how big the tree stump you want to remove is will allow you to get a clear idea of how easy the task at hand is. Knowing this, you'll also know exactly what type of equipment will be best suited to its removal. We suggest you start by measuring the size of the stump. Once you've determined its dimensions, you can estimate how much the stump could weigh, and decide on the most suitable equipment to help you in its eviction.
3 Be realistic about your space: Once you've determined your soil type and how big of a stump you are dealing with, you need to be realistic with the real estate you have available. By this we mean you need to make sure there's enough space to operate excavators. Remember tree stump roots run deep and wide, and all need to be removed to prevent the stump from potentially regrowing. Scrappers are a good landscaping piece of equipment. But these bigger machines require additional space to work on. If you don't have this space, digging with a shovel may be a better option.
Now that we've covered the couple of necessary things you need to be aware of before you get started, we can begin the stump removal process.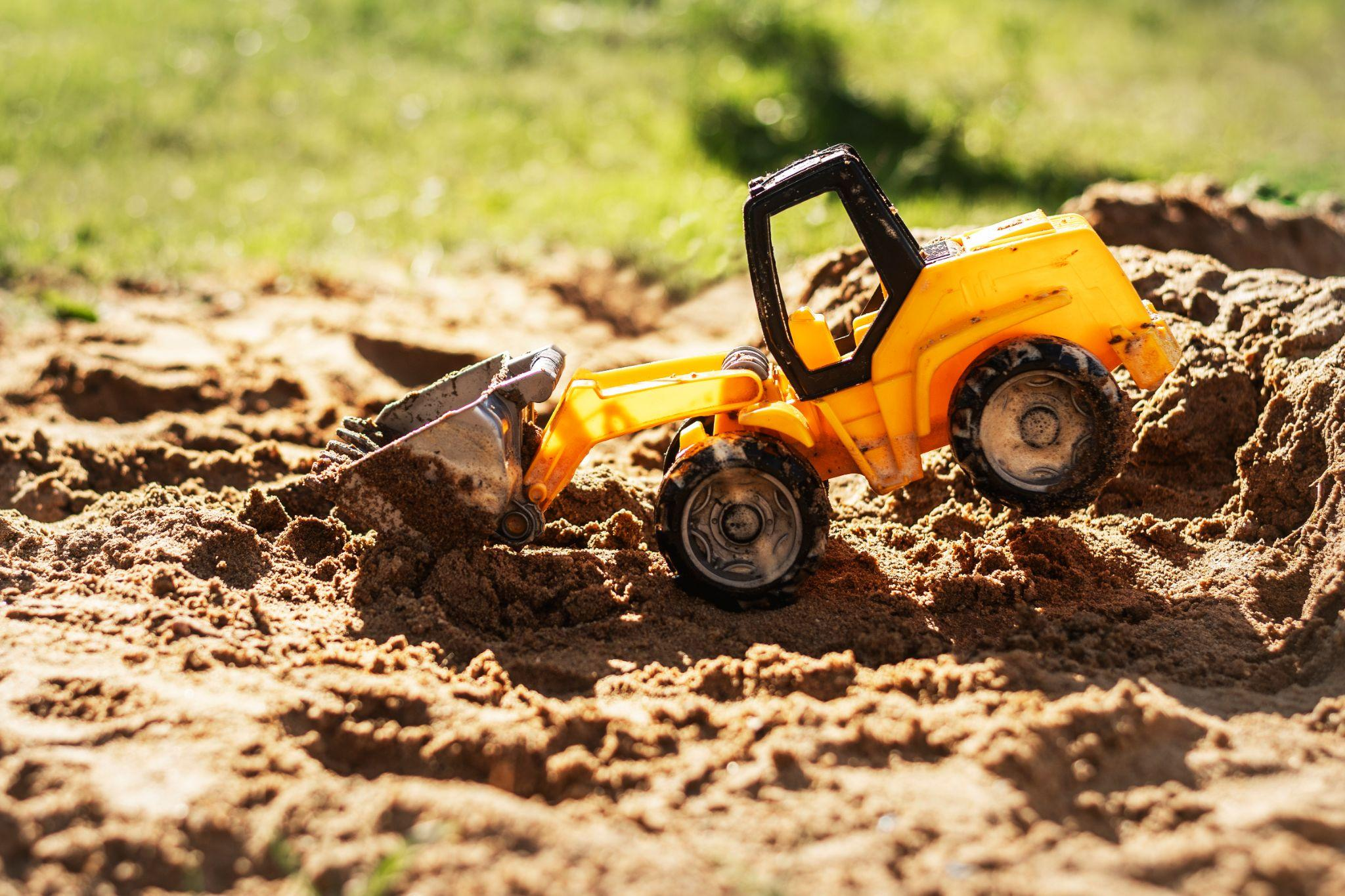 The Tree Stump Equipment You Need
The Excavator
You've likely seen the name floating around DIY forums, and the word on the town is true. Excavators are extremely efficient in removing tree stumps, and a fan favourite of DIY enthusiasts and professional landscapers alike. As earth-moving equipment, excavators simplify landscaping by being able to rotate a complete 360 degrees, as well as being able to operate in a variety of job sites and surface conditions.
The purpose of an excavator? To push the tree stump out once you have dug a trench surrounding the cutaway roots. If your renovation is in your backyard and you have limited space, mini excavators exist to solve your problem. These small yet mighty machines are perfect to maneuver in small areas and are easier to transport. The only downside to owning your very own excavator is that they don't come cheap. However, with companies like Ryno Hire, we've made excavators available for dry hire, so you can complete your next project, easily and quickly!
Now that you know how to prepare yourself for tree stump removal as well as the equipment to arm yourself with, it's time to discuss the step by step of the stump removal process.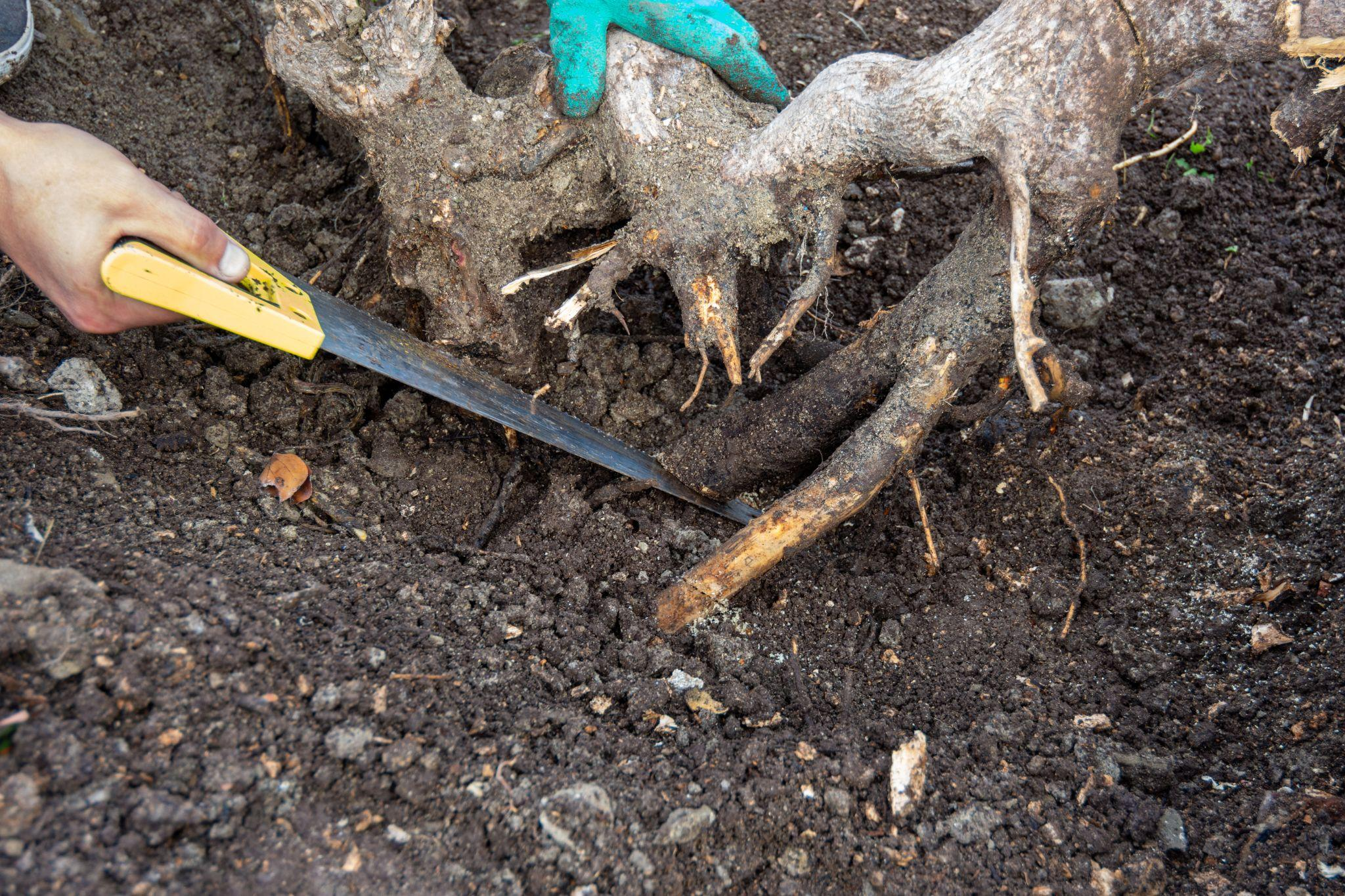 How to Remove a Tree Stump
Step 1: Rip up the roots
The first step in removing a tree stump is to tackle the roots head-on. Here at Ryno Hire, we suggest you use the ripper tyne on the excavator to rip up the roots as it saves time on manually cutting with a hand saw. Although hidden from our eyes, a tree's roots spread as far under the ground as their branches do above ground. Using the ripper tyne on an excavator is recommended if your tree is bigger. Remember, the bigger the tree, the bigger the job will be, so physically removing the roots yourself is best suited to smaller stumps with smaller roots.
Tip: Before you start digging, it's important to call your council to ensure you aren't digging around water, sewer or other underground lines!
If you choose the manual route (removing the stump without any machinery), tools like a spade, loppers, grub hoe, and possibly a root saw will be beneficial.
To start the root removal process you'll want to dig a trench around the stump. Most experts will suggest this to be about three feet wide (91 cm) and eight feet deep (243 cm), depending on the size of the tree stump of course.
When removing roots manually, you'll want to use a spade to dig out the surrounding soil until you see the roots.
Now with the roots visible, you can start pulling until no roots remain.
If the roots are too thick, tools like a root saw may be required. If you have the space, you can use your dry hire excavator to push the stump in the direction of those roots to encourage them to separate from the soil.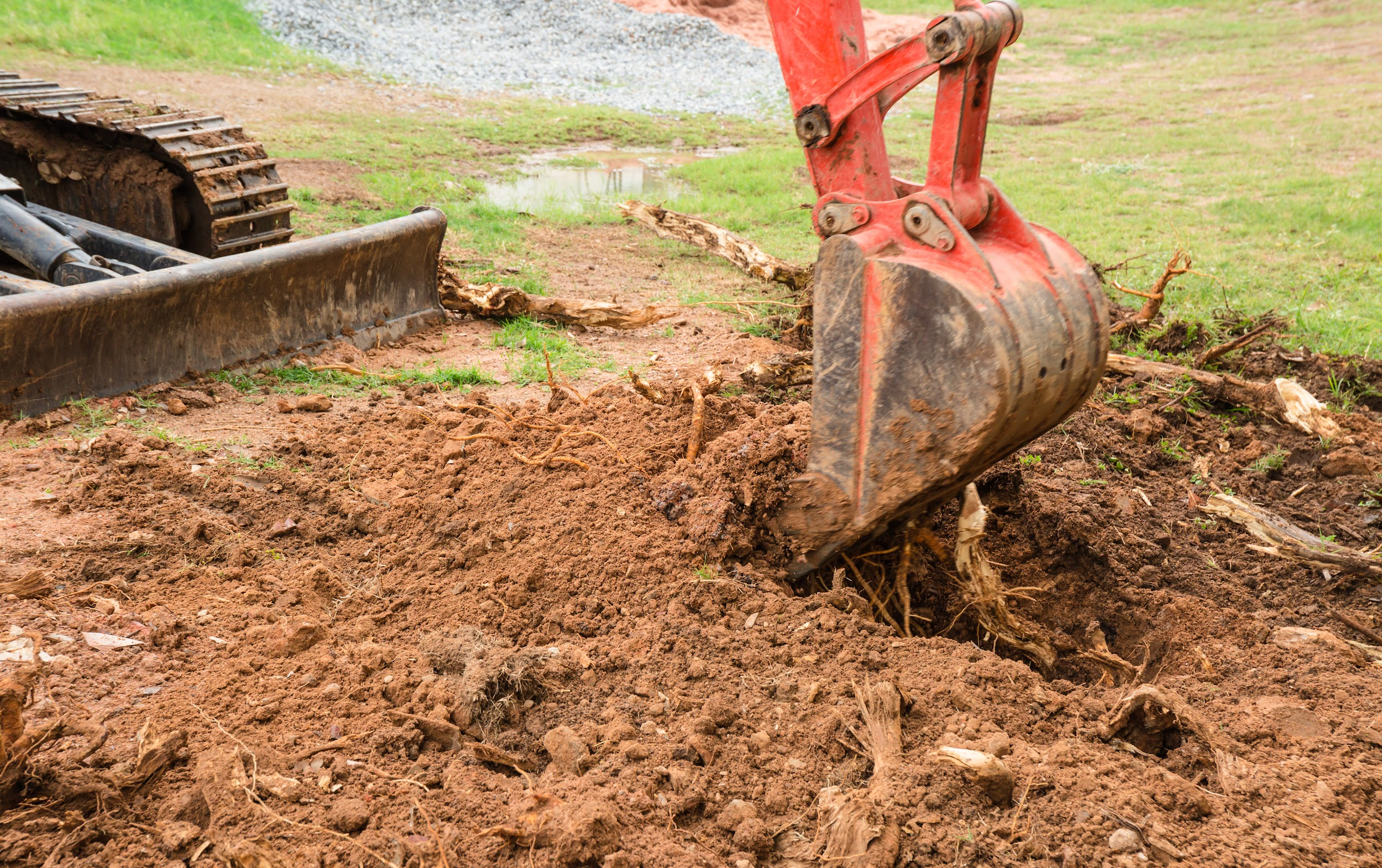 Step 2: Remove the stump
Once you've finished coaxing the tree roots out, you can use the excavator's digging buckets to scoop the stump and remove it from the soil. When removed, roll the stump away from the removal zone, and fill the hole the stump has left to even out the land. It's not recommended you fill the hole back up with soil, as it's often too loose and you run the risk of creating a sinkhole and uneven terrain. To combat this, you can grind the stump down and use the wood chippings topped with soil to fill.
The last steps are to smooth over the hole. After all, we don't want an uneven surface for whatever you plan to later build on top. To create a flat surface you can use your shovel, or excavator to roll over it.
Tip: To prevent seedlings from sprouting, you can add some herbicide for the next few weeks or months. If you do happen to notice any sprouts even after this, go ahead and remove them as soon as possible.
If your next DIY project is to dig out your swimming pool before summer, there's no better time than to start now. With the help of an excavator, your landscape visions can become a reality. Even without any DIY projects on the horizon, an excavator's power, accuracy and versatility are useful in helping you complete other tasks on your to-do list, such as improving and maintaining your landscape.
As some of the best equipment to help you remove a tree stump, you no longer need to stay stumped! Ryno Hire is the landscaping hub for tradies, landscapers, and DIYers. To best remove your stump fast and efficiently, we can help provide you with your excavator. To get your excavator, contact our friendly and knowledgeable team about your plans today. Or find out more about our services by calling (07) 3353 2230 or by enquiring online.