Australians, and particularly Queenslanders, spend an extensive amount of time outdoors due to the almost-always sunny weather we are blessed with all year round. Many of us are also fortunate enough to have relatively large backyards, especially those living further outside the city. For some cool relief from the sunshine and heat, it's a great idea to take advantage of your abundant space to build a fixed structure, like a gazebo. Fixed gazebos are roofed structures offering 360-degree views of the surrounding area, they are effectively a covered outdoor living space, perfect for Queensland's sub-tropical climate. A fixed gazebo is a basic yet practical garden structure which can serve multiple purposes and increase the value of your home with its classic and elegant design.
Benefits of a Fixed Backyard Gazebo
If you've decided your backyard is in need of something a little extra (or some much needed shade), then a statement gazebo might be just the right structure for you. A gazebo is a simple yet impactful way of improving the background and adding value to your home. There's a range of benefits to building a gazebo:
It's a functional area, providing shade for you to sit outside and enjoy the outdoors.
Adds aesthetic appeal to the yard – there's just something classic and romantic about a gazebo.
Allows you to spend more quality time outside and breathing in fresh air, all whilst being sheltered from the elements.
It's the perfect spot to slow down and relax
It's also the best place to entertain friends and family outside – prepare for long lunches and outdoor dinner parties
Allows you to make the most of the outdoors and the Australia's or Queensland climate.
Acts as a focal point for your garden
Provides complete cover from the elements – rain, hail and the blistering sunshine
Adds privacy with the right fencing around it
Breaks up space, creating a secondary seating area or defined zone in the outdoor area.
Gazebos are versatile in the way they can be used and designed. They come in a variety of sizes, materials, finishes, and are suitable for many budgets and styles of homes. For example, they don't have to be dainty or traditional in style – modern designs of gazebos suit the aesthetic of many modern homes. They can also be decorated with the right decor to add further visual appeal and personality. Add hanging plants, vines, lights, and awnings for greater function and comfort. You can style depending on your budget and needs or lifestyle. Cooler climates can warm their gazebo with heaters, warmer climates can utilise fans, entertainers can utilise downlights and a bar fridge, and so on. A well designed and built gazebo can be utilised all year round for many years.
PRO or DIY?
Building a gazebo may appear challenging, though it can be relatively simple. To make the build as easy as possible, ensure your design plans are sound and make sure you have access to all the necessary tools and equipment. The relatively inexperienced, local handymen or carpenters should be able to handle such a project with relative ease, especially if you adjust the design to your skill level. For example; rather than going for the traditional pentagonal or hexagonal design, perhaps go with a sleek and modern four poster design?
Here's some basic tools that you'll probably require:
Galvanized deck screws
Hammer
Ladder
Shovel
Circular saw
Drill
Power Drill/ Driver
Spade
On top of that, you'll also probably need some of this basic dry hire machinery:
Which machines you'll need depends on the scale of the project – are you also taking on a larger backyard reno meaning more materials will need to be transported into and out of the space? In this case, your excavator and tipper truck are essential items. If you just need a bit of land clearing, a skid-steer loader might be just enough to do the job. If you're unsure, remember that a friendly Ryno Hire specialist is always on call to provide you with advice on the project and machines.
One of the greatest benefits of getting multiple machines out at once is that Ryno Hire can bundle these in a combo hire, which comes at a reduced price over hiring each machine individually. Combo hires are great if you're going to need two or more machines for the one hire period. Learn more about Ryno Hire's helpful combo hires here.
Factors to Consider Before Building
Laws & Regulations
Much like we stressed in our article about building a retaining wall around pools, you'll have to check if and what you can build on your land, before you begin. For most homeowners, there are limited restrictions on the building of permanent fixed structures on owned property. Though, there are restrictions around where structures can be built, how large they can be, and the height of the structure. Consult with your local council regarding any specific rules and regulations to homes in your area.
Your Backyard
A gazebo cannot be placed simply anywhere in the backyard. You will need to consider the gradient of your backyard and assess where the land is the most flat and sound. Gazebo requires a relatively level, flat area to be built on. Building a gazebo on steep ground or a sloping hill is possible, however, can significantly increase the cost of your build. It also adds complexity to your project as you're dealing with angles. Low-lying areas where water tends to collect should be avoided – adequate drainage is key to the longevity of a gazebo. Also, placements near young trees should be avoided. As trees grow, expanding trunks and root systems may interfere with the gazebo's structure. Therefore, the removal of trees may be necessary before you begin. Other things to consider include:
How will the gazebo impact foot traffic through the yard? Will people be inclined to make shortcuts or will they be forced to walk on uneven terrain to reach the gazebo?
Consider the gazebo's function when deciding its location in the yard (e.g. for social functions, or as a meeting place, you want it to be accessible and centrally located to the house).
Ideally, you should place the gazebo on a concrete slab for safety & stability!
Enquire with your local council where power, water and plumbing is and mark this to avoid any damage.
Depending on the size of your backyard and the space you're working with, it can be challenging to navigate heavy machinery in such a tight space – here' some helpful tips!
Design & Styles
Modern gazebos come in a variety of styles, designs and materials, so a number of style choices must be made! A few creative touches can make a big difference to not only the aesthetics of a gazebo but how it will function. Many gazebos in Australia are designed with thatched roofs to create a 'Bali hut' feel and look, whilst also maintaining shade. This is just one very popular choice! Thatched roofs however, can easily fall apart and require frequent maintenance. They can also often become home for birds and can be a fire hazard. Asphalt roof shingles instead are recommended as roofing alternatives. These are aesthetically pleasing without the maintenance and fire risk. Roof shingles also provide excellent waterproofing, built to resemble the natural environment and be highly durable. They're also fast and easy to install, making them perfect for DIY projects.
Ultimately, your size and material choice will influence the gazebo cost, so shop according to your budget. That being said, a well designed gazebo which suits all your needs and lifestyle is an investment. If you're wanting it to last you many years into the future, always opt for good quality materials that have been treated against the elements.
Once you're finishing transforming your backyard, consider adding some curve appeal and improving your front yard too!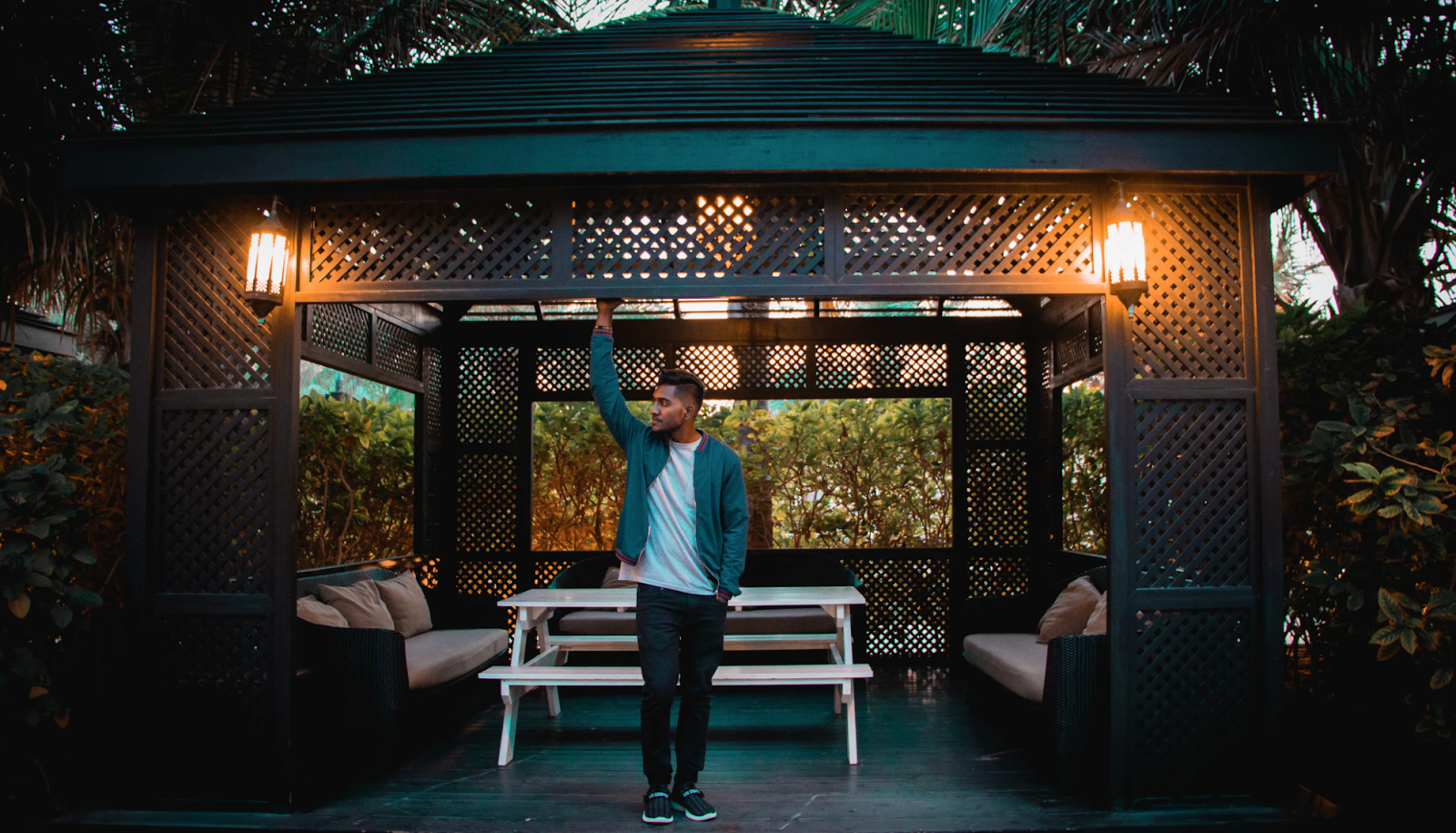 Why Dry Hire?
Ryno Hire helps tradies, landscapers, and handy-people every day by setting them up with the right equipment. We know you have the skills, you just need the right tools – and that's why we provide all of the most popular machines for construction projects of all different scales (from backyard to official sites). Dry hiring saves money and time, and it allows you to build up your skills and repertoire through landscaping and construction. There's no better sense of accomplishment than finishing a DIY project for yourself or your household. Learn more about dry hire here!
For any upcoming project, Ryno Hire is here to help pair you with the right equipment for dry hire. Even if you're relatively new to the world of construction, Ryno Hire can help you feel confident and competent with our helpful advice. Talk to us about your upcoming project and ask about our services by calling (07) 3353 2230 or enquiring online.